Highlights
Boasting a new approach to the iconic kidney grille, the latest Operating System 7.0 connectivity and a choice of impressive TwinPower Turbo engines, the BMW Z4 Roadster is a timeless classic with a modern twist. Available as a Sport model as standard, it impresses with split twin exhaust pipes, new LED lights, and a new stylish soft top that unfolds any journey.
DEFINED BY SPORTINESS AND AGILITY.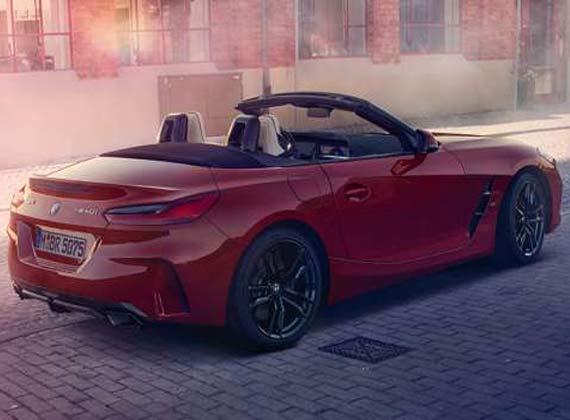 A Roadster
In the BMW Z4, driving pleasure knows no bounds. Especially when the roof comes down. A roadster that could not be any better: open, sporty and uncompromising. With powerful driving dynamics and a progressive design, it has only one aim: the freedom between the road and the open sky.
5 good reasons for the BMW Z4
Races as BMW Z4 M40i in 7:55.4 minutes around the Nordschleife
Interior defined by clear design and use of selected decorative features
For the first time vertical tubes for daytime running lights and high beam
Sheer unfiltered driving pleasure
More talented than ever thanks to teachable Intelligent Personal Assistant
Learn More
INTELLIGENT DRIVING.
To match its modern design concept, the BMW Z4 Roadster features the very latest Operating System 7.0. Enabling drivers with intuitive and personalised controls, it's bolstered by the new BMW Live Cockpit Professional, which has a stunning 10.25" touchscreen Info Display. Factor in the Intelligent Personal Assistant, which has the ability to learn, and you have one smart sports car.
Testimonials

" THE Z4'S CHASSIS RELAXES NICELY INTO COMMUTING OR LONG-HAUL WORK. AND WHILE YOU'RE AT IT, THE DRIVER AIDS AND HEADLAMPS ARE ALL YOU'D EXPECT FROM MODERN GERMAN PREMIUM."

"HANDLING POISE WITH LOTS OF LATERAL GRIP AND TRACTION. THE CAR'S HANDLING IS ACCURATE AND COMPOSED, IT HAS USEFULLY GOOD HIGH-SPEED STABILITY AND IT'S PLENTY OF FUN TO DRIVE."
Go straight to your
BMW Z4
The BMW Z4 demonstrates its sporty origins on the road. You too can now experience driving dynamics of the superlative class.
Subscribe to our Newsletter!